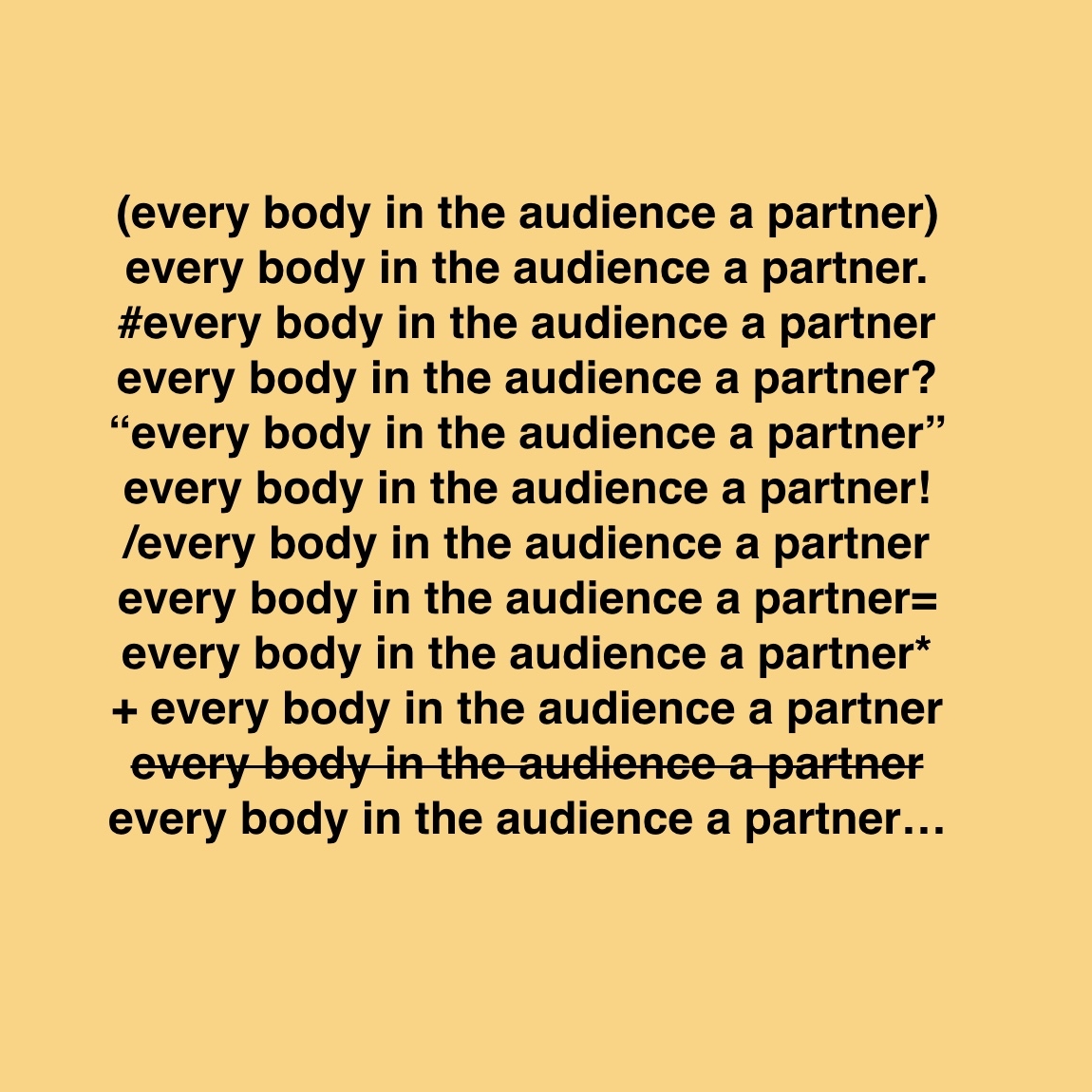 BIO
Janine Harrington is a choreographer, performer and writer born in Canterbury, UK. She holds an MA (Book Arts) from University of the Arts, London (2011) and a BA (Hons) in Dance Theatre from Laban (2006). Janine is interested in game structures, play, access, neurodiversity and the poetics of movement practices. Her recent work, the kaleidoscopic Screensaver Series (premiered at Dance Umbrella, 2018) foregrounds these interests and is currently touring.
Janine's practice is underpinned by research focused on developing interactive, participative and poetic movement experiences. She has honed her practice alongside performing in gallery and museum contexts across Europe, teaching, writing and advocating around neurodiversity .In 2019 Janine is Align associate artist with South East Dance and Re-Search artist with Dance Umbrella/ Middlesex ResCen Network. She was twice recipient of the DanceWEB scholarship to ImPulsTanz Vienna (2013/16) and received a scholarship to Banff Centre Canada to work with Liz Lerman and Ruth Little exploring dramaturgy for dance.
Her work has been programmed by: Wellcome Collection, Dance Live Aberdeen, Sånafest Norway, Hepworth Wakefield, Dance Umbrella, Encounter Bow, V&A Museums, NottDance, Brighton Festival, Brighton Digital Festival, IDOCDE Vienna, Tanz in Winterhur, Villa Empain Brussels, Stockton International Riverside Festival, Hull Freedom Festival, Warrington Contemporary, Central St. Martin's, Siobhan Davies Dance, Big Dance, Goldsmiths, Theaterfestival Favoriten Germany, Et20l'été France, South East Dance.
Janine is supported by producer Kat Bridge.
Image: Screensaver Series, Roswitha Chesher
NEXT
-Screensaver Series, NottDance, Nottingham 10th Oct
-trying in 2019 with Christopher Matthews and Shannon Stewart
-Screensaver Series, Tanzfestival Winterthur, 15th Nov
-Screensaver Series, Wellcome Collection, London, 30th Nov
-Screensaver Series film in development
each part in its own time breaks down
The Human Clock, small time
Image by Elisa Vassena
taking different roles in accumulation and filtering
You can find information about all the projects here but please get in touch if you'd like more information or see calendar for upcoming shows, classes and more.
Image: Screensaver Series at OOPS Festival, 2019 captured by Paul Seaby.
the sleeper sleeping the dream that moves them
As a performer I have worked mainly with Tino Sehgal and have interpreted the following works:
These Associations (2012) Tate Modern turbine hall, July-Oct 2012 and Palais de Tokyo Oct-Dec 2016.
Yet Untitled (2013) Venice Biennale, May-Nov 2013; Kremms am Donnau, Austria, April 2013; The Stedelijjk Museum Amsterdam June-July 2015; KIASMA Helsinki September 2015; Leopold Museum Vienna, 2016; Palais de Tokyo Oct-Dec 2016.
Instead of allowing some thing to rise up to your face dancing dan and bruce and other things (2000) Leopold Museum Vienna, July-Aug 2016; Palais de Tokyo Oct-Dec 2016 and Fondation Beyeler Basel June-July 2017.
Video: Stedelijk Crew Report: Superfan van Tino Sehgal / Tino Sehgal's "superfan" talking about her experience of visiting us interpreting Yet Untitled. Jes visited us nearly every day and I place this video here in lieu of documentation.
together
Alongside my work I help other artists with their projects in and out of the studio. This can mean:
-being an outside-eye
-mentoring
-project development, planning and management
-support in developing educational content
-grant-writing (specifically Arts Council England project grants- under 15K).
-websites
-drawings!
I currently work with Tate n Lyle, Christopher Matthews, Darcy Wallace & Fernanda Muñoz-Newsome. I have recently worked with Simona Scotto and Rachel Gildea. I usually work with 1-2 artists at a time but it depends on what the project needs. Send me a message to know more.
Image: Janine for Shannon Stewart | Screaming Traps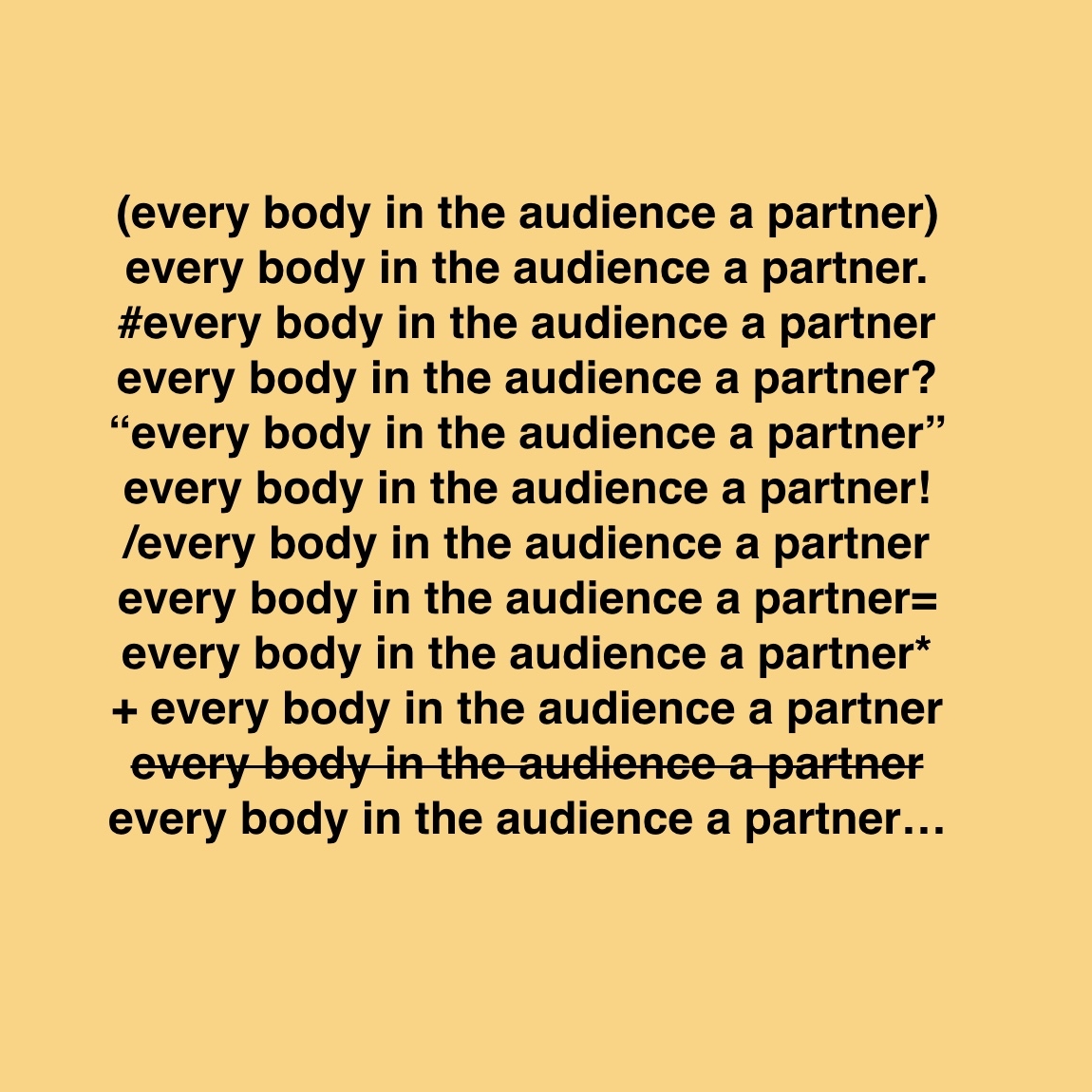 constant changing relationship
Image: Everybody in the audience, with punctuation (2018)